Join us for some Love by the Glass as we celebrate Virginia Wine and Dine Month all throughout March!
Virginia is one of the oldest states in the Union and has been making wine since the 1700's. That's given us a couple hundred years to perfect the art, and perfect it, we have! As of 2012, Virginia has 3,000 acres of grapes for wine, producing 7,500 tonnes of wine! During the past few decades, Virginia wine has seen its largest increase of production in the state's history. Virginia really is for Wine Lovers!
To celebrate, we've picked four new wines from Virginia's West Wind Farm. They planted their first grapes in 2003 and have not looked back since. Paul and Brenda (Humphrey) Hric moved back to the old family homeplace, and made their first batch of wine in 2005. Response to that was great, so the couple kept going. Now in their 11th year, this small winery is making big waves in the regional wine market.
Our customers know we are always on the lookout for the next new product, as long as it is from Virginia or within our 150 mile rule, we love to learn about new sources for our shop and restaurant. Several people mentioned West Wind Farm Wines as being something worth trying and considering for our menu so we had them come out and do a small tasting with our staff. We were impressed to say the least and are now adding four West Wind Farm Wines to our already extensive award winning Virginia Wine list.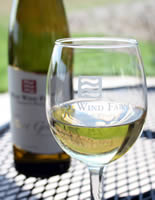 Galena Creek White is an off-​dry, crisp white made from the Vidal Blanc grape. It's fermented in stainless steel and exhibits green apple and citrus notes. Delightful paired with salads, pastas, fish and poulty dishes.
Riesling grows well in their little part of the Blue Ridge Mountains. The cool evenings bring out classic flavors and aromas in this German-​style white wine. Look for notes of tropical fruit and pear. Lush and refreshing, this wine has 1.75% residual sugar, making it slightly — but not overly — sweet. Pairs nicely with Asian dishes, poultry, seafood and an array of first courses.
Chambourcin is a red French hybrid grape that was developed over a hundred years ago. They make a varietal wine from it that has beautiful deep color that is matched by its more intense flavor profile. Aged in French and American oak for 12 months. Pairs well with picnics, barbeque and most any smoked or grilled foods.
Cabernet Sauvignon is one of the most recognizable grapes in the world. Their Cabernet exhibits a luscious fruit-​forward profile with notes of dark berries and licorice underscored by hints of mocha. Delightfully complex and equally drinkable, it was aged in French and central European oak for 12 months. Body balances nicely with the fruitiness yeilding a wine that is velvety and full.
Come see us to try these new wines by regional vintner West Wind Farm. We are pleased to add them to the list of incredible Virginia wines we already proudly serve.
Our Wine List Won

1

st place — Best Virgi

nia Restaurant Wine List!
We're proud of our Virginia based wine list and with good reason! We won 1st place in a statewide contest for our exceptional selection of Virginia wines.
Thanks to the readers of Virginia Wine Lover's Magazine for selecting our wine list as the statewide winner in the Virginia Wine Lover's 2014 Readers' Choice Best Of Contest!